4oz. Jar
$15.50
8oz. bottle
$13.95
4oz. Jar
$11.95
4oz Bottle
$11.95
4oz bottle
$11.95
2oz Jar
$10.95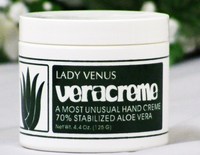 Vera Creme - One of the most versatile and exciting all-purpose hand cremes available that contains 70% Aloe Vera. It protects, softens, soothes and heals. Provides protection against wind, weather and detergents. Prevents dryness,
roughness
and redness. Helps relieve most skin irritations. Not greasy and quickly absorbed, stays on even after washing hands.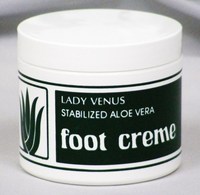 Foot Creme - Relieve tired, hot, aching feet with this refreshing foot creme formulated with 30% Aloe Vera. It provides lubrication to combat signs of dryness and roughness. It is non-greasy and quickly absorbed.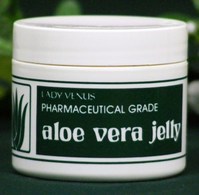 Aloe Vera Jelly - One of the purest Aloe Vera Jellies available anywhere! It's indispensable. Use it for sunburn, insect bites, fever blisters, chapped lips, superficial cuts and abrasions, skin blemishes, ect. And there's no embarrassing color or odor. It gently glides on to sooth irritated skin.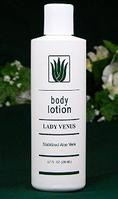 Body Lotion- Pamper your skin all year round with this luxurious body lotion. It contains 40% Aloe Vera and other skin softening ingredients that never leave a trace of stickiness. Squeeze a small amount in the palm of your hand and smooth over entire body. Leaves the skin satiny and velvety smooth.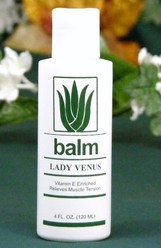 Balm - For temporary relief of muscle tension and minor aches, our Aloe Vera Balm is soothing and deep penetrating. It contains menthol eucalyptus oil, 60% stabilized Aloe Vera, and is vitamin E enriched. Excellent for dry, chafed skin and minor skin irritations.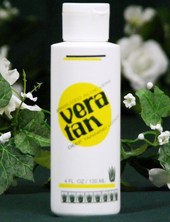 Veratan- Protect your precious skin from the sun's burning rays! Designed for deep tanning, contains a sunscreen agent, stabilized Aloe Vera, and moisturizers. Promotes a long-lasting, healthy golden tan. Non greasy, with fresh herbal fragrance.